Why ice cream dates are better than bars after COVID-19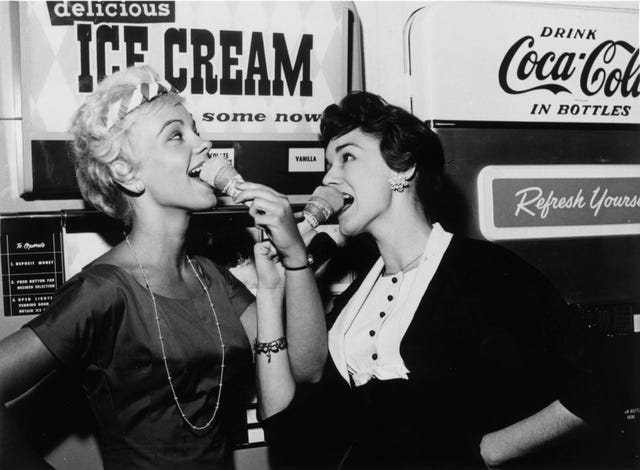 Central pressGetty Images
The past 16 months have taken so much from all of us: time, loved ones, income, joy, too many restaurants to count. I made it through the worst part of the pandemic relatively unscathed i.e. I only caught a mild case of COVID-19, transferred all of my friendships to FaceTime, and went without hugging my dad for almost a year.
Like many people, I faced this depressing reality by drinking more than usual. In 30 days study by Johns Hopkins University, nearly two-thirds of participants said they drank more during the pandemic, and 34 percent engaged in binge drinking at least once. For my part, I learned to make Boulevardiers, Old Fashioneds, Negronis and Aperol Spritzes, and even managed to escape with less than a handful of hangovers. But as the restrictions start to loosen in the US and I return to see friends outside of my immediate bubble, I have started to skip drinks instead of something a little healthier: ice cream. .
Here's the thing: I'm not at all new to ice cream. In fact, in eighth grade, I took a job at my local Dairy Queen, where I stayed every summer until my last shift in sophomore in college while I was home during the months. Spring Break. That's seven huge years of picking up, spinning and pumping hot fudge – way too much experience for someone who has never gotten to a managerial position.
But I was more than happy to spend my evenings washing melted dairy products from my arms in exchange for as many free cones as I could eat. My favorite treat at DQ was simple: a little vanilla cone rolled in rainbow sprinkles. More than the soft serve or the toppings, I loved the shock of the textures where the ice cream meets the cone. On slow afternoons, my coworkers and I would experiment with new flavor combinations, mixing butterscotch syrup with nerds and chopped Twix with cherries, trying to try and come up with something oddly delicious.
At that age, ice cream was a collaborative way to kill time on a rainy day, and now every cone I eat is steeped in nostalgia. As I write this now, I can feel the wafer creaking coldly against my teeth. It's exactly the same taste I found a few months ago on the first sunny day of spring when my partner and I reported a passing Mister Softee truck. This is the perfect way to get Mister Softee. You can't go get it, the ice cream is only good if he finds you, and the interaction feels drenched in the hard chocolate shell of fate.
Since I moved to New York City last summer, I've gotten into the habit of having ice cream with friends rather than cocktails or beers. It all started during a brief courtship with a woman I met on Hinge who rarely drank. We had a great date at Van Leeuwen in Prospect Heights in Brooklyn, after which we walked around and talked, cones in hand, about our love of cinema, especially our deep admiration for Showgirls.
A few weeks later, I returned to the same place to find a mutual friend who had just left a working dinner. We had been out for drinks several times before, but this was the first time we had met face to face. We shared our frozen dessert on the sidewalk, sympathetic to the idea of ​​dating a gay for the first time in our lives. Our conversation got deeper than ever – ice cream was the portal from knowledge to friendship. Recently, after grabbing ice cream at a small store with only one busy bench, a friend drove me to a nearby park, where we rested next to a quartet of gentlemen to cool off. As we ate, a pit bull adorably chewed on the head of a sprinkler, a scene we never would have encountered stapled to a bar stool.
To me, there's something exciting but pure about catching up with a friend while licking the side of a waffle cone, and probably your hand and wrist. Ice cream doesn't require you to stay longer than you would like. After just one cone, you're probably too full for a second; waiters never look at you in another round. When the ice cream is gone, so is the reason you see your friend – you both are free to go! – but if your ice cream hangouts are like mine, you'll continue the conversation, towels in your palms, just because you're enjoying each other's company. It's a sign that your friendship (or relationship – I'm all for an ice cream party with a lover) is far more important than why you're meeting. Yes, ice cream is sweet, but friendship could be even sweeter, not to mention stronger than a stale candy cone.
As heatwaves hit the country and I try to cut back on my binge drinking during lockdown, there's no better way to defend against summer temperatures than going on a date you iced with a friend. Sure, ice cream may seem childish, but after a year and a change in accelerated agingwe could all benefit from the habit of occasional youth. My only question is: what flavor?
This content is created and maintained by a third party, and uploaded to this page to help users provide their email addresses. You may be able to find more information about this and other similar content on piano.io
You Can Read Also :